You shouldn't let your baby's wardrobe & clothes suffer from compromising just because they are still wearing diapers. Baby Outfits and dressing i
You shouldn't let your baby's wardrobe & clothes suffer from compromising just because they are still wearing diapers. Baby Outfits and dressing is one of the major factors which more illustrates the cuteness of babies. Dress up your baby in stylish clothes for those first pictures, because you'll be looking at these photo albums for years to come!
You can buy lots of baby outfits and clothes before the baby is born. This way, you will have a wide variety of clothing styles and sizes to choose from when dressing them up. Also take care to purchase accessories such as hats, sunglasses, hairbands, shoes, etc. These can be bought cheaply in large quantities at most retailers such as Walmart or Target. Choose baby clothes that have snap buttons or dray-on type snaps on the sides of their clothing instead of zippers and buttons. These are easier for a new mom to deal with because she won't need any assistance from a second person to put clothes on the baby.
Related: How to Take Good Care of your Babies
What Should the Baby Wear for Pictures?
Choosing outfits for newborn photos might not be on your mind right away after you bring your baby home, but don't worry: it's not that hard to pick appropriate outfits since your newborn hardly moves, doesn't mind being changed, and sleeps quite a bit (those sleep smiles will be precious).
You can go with a basket or baby bed for the pictures it's completely fine and the portraits look more natural and lovely. They should be put on their stomachs with their heads on their hands or on their backs. Take some adorable pictures of him when he is comfortable!

You can also take the picture of your naked babies if they're not in the complete pack outfit. After all, they're just a small baby and you have to make them comfortable to get some adorable pictures, Allow your infant to be nude or in only a pair of bloomers. A gorgeous flower headpiece, delicate wings, and a pretty ruffled blanket add added cuteness.

Use proper accessories before taking outside images due to the weather changes which can affect your babies negatively. So, you must have to consider this factor too. Use accessories like headbands, hats, bandana bibs, or scarves, especially in the summer when you don't want to overdress them. Bandana bibs are also multifunctional: they absorb up all of the chewing drool while keeping the infant looking like a million bucks!
Visit Marketnow: Pakistan Online Wholesale MarketPlace Where you find all types of products.
Cute Outfit Which your Newly Born Baby Can Wear:
You can't go wrong with a baby boy bodysuit costume for the first newborn boy photograph. The more vibrant and amusing, the better. You'll end up with a lot of happy pictures! You may mix small bottoms and lovely shirts for your newborn boy images instead of a bodysuit. He'll be at ease and calm, and he'll appear completely natural.
You can use these Dresses for Baby Girls 
For your trendy baby girl's first picture shoot, a frilly bodysuit ensemble is ideal. Don't forget to add some gorgeous leg warmers, matching boots, and a stunning headband with a bow. Your newborn girl will have the appearance of a small diva!
Newborn baby girls love one-piece outfits because they are easy to put on and take off. Dress up your baby girl infant in a really pretty dress and give her a sparkly headband for her first photo shoot. Your little princess will love it!
Make sure that the baby girl clothing set includes a pinky top and some cute bloomers. Your little princess will look adorable wearing it!
Match the Christmas Clothing with Right Color Combinations:
Christmas is around the corner and it's time to take care of everything you need to arrange before Christmas day. Help your little ones look their best in their Christmas outfits with these creative ideas. Go ahead and get inspired!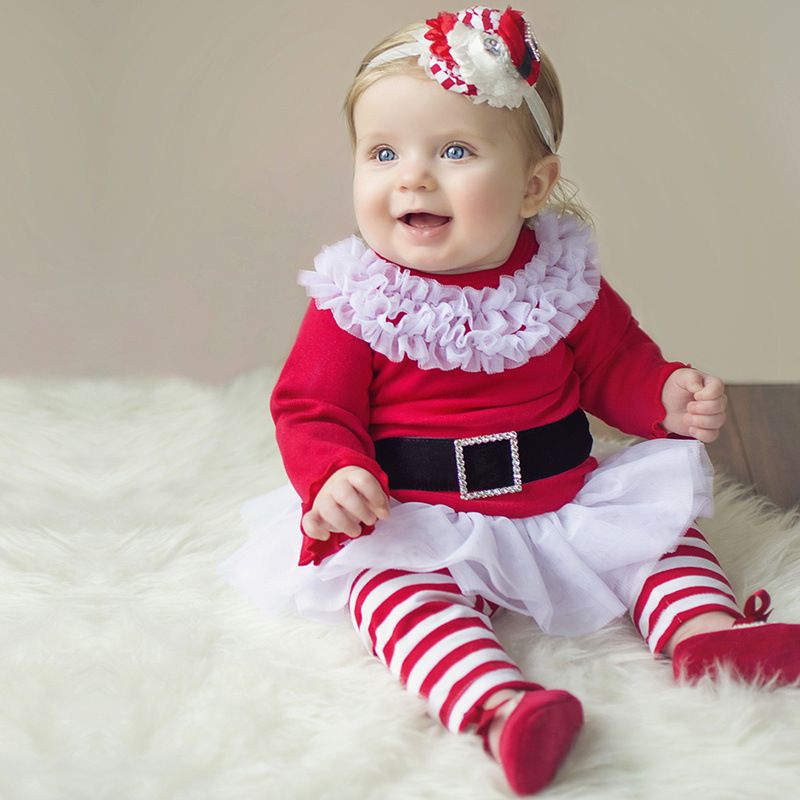 The girls will look stunning in the brilliant green color as they match it with a yellow dress. The boys, especially toddlers and young males, can also wear a green-colored outfit with a red shirt underneath. Red is dominant in most of the Christmas colors so it's a good idea to make use of this color when dressing up your kids for the holidays. No need to spend much on clothes because there are lots of wholesale shops offering cheap clothes for kids (and these will fit babies too). 
You can also choose the Global Lover which I personally suggest to you who provide the finest quality Christmas clothes for kids and newborn babies. They have different clothing varieties for baby girls and baby boys. They also offer wholesale services for dropshipping and other business opportunities. You can get the wholesale baby boy clothes from a global lover at chap price without compromising the quality.
Outfit Ideas for Older Babies:
Outfits for babies who are much older should be as comfortable as possible but still cute. If it's really hard to find comfortable clothing for babies, try putting a soft t-shirt underneath the outfit you want to give her and then very loosely putting on a light sweater over the top of that. This way the baby is protected from the elements but still gets to wear those onesies with silly sayings on them.
It is not uncommon for people, especially new parents, to choose baby clothes with patterns on them before their child is even born. This can make picking out clothes more fun, given that they have already chosen several outfits that they like.
Conclusion:
Choosing the right clothing to dress up your newborn baby is important but you must not forget that the clothes which you are going to buy for your baby sometimes come with a note which tells about how the manufacturer specifically uses this particular type of fabric or product in making these clothes, so if you see a note saying that "This type of fabric or product causes allergies" then don't consider buying this item, as they will only cause unnecessary problems to you and your child. 
Moreover, if you are going to buy baby clothes online, then it is very important that you take the time to read through reviews before making a purchase. These products are definitely worth investing in but they could also end up being very dangerous for the health of your baby.
If you are looking for
Wholesale market in lahore
to buy, sell and trade all types of products on wholesale rate online then just visit www.marketnow.store pakistan no-1 online wholesale market where millions of customers visit daily.